With years of our own personal experiences wearing chest binders, listening to our customers' feedback, consulting with our trans and gender diverse community and working closely with a team of garment technicians and designers, we have designed the Sock Drawer Heroes chest binder range.
We focused on creating binders that provide effective chest compression while being comfortable, size inclusive, sensory-friendly and affordable.
"This is, by far, the best binder I've ever owned. The compression is INCREDIBLE, none of the Underworks binders I've bought come close to how flat this makes my chest! I'm on the chubbier side and the lower arm holes are a god send, it doesn't rub or bunch my arm/chest fat into weird positions and it gives a much more believable looking masc chest. I genuinely can't sing enough praises about this binder."
"I'm a small dude with a bigger chest (size 6-8 clothes, size DD-F cup chest), and I've never had success with binders doing what I need. This binder is the exception, it's amazing. This binder is SO comfy to wear, the fabric is sensory-friendly, it's affordable AND it flattens amazingly. I was actually mouth-open in happiness staring at my flattened chest in the mirror when I tried it on, I never thought there'd be a binder that works for my body."
"Amazing design and so comfy does a great job. I'm so happy."
"I'm a smaller guy with a disproportionately large chest, so it can be really hard to find something that actually compresses AND fits right - this binder ticked all the boxes for me; great compression without constricting my ribs, smaller arm holes so I had little to no armpit boob going on, and most importantly, my chest actually stayed where it was supposed to! I honestly can't recommend this binder enough."
"Bought this as my first ever binder, and oh my god it is comfortable. It's so soft and easy on my sensory issues. Love the effect it gives, would absolutely by another of these!!"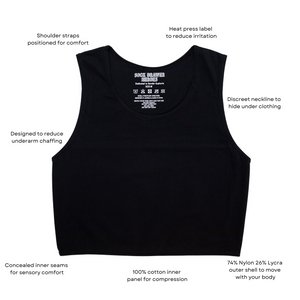 Size range: 2XS - 5XL to suit all bodies
Styles: short, long
Colours: black, white, (3 skin tones from late 2023)
Sensory-friendly design (soft fabric, concealed hidden seams and no fabric labels)
Designed in Australia by Sock Drawer Heroes, a trans and queer team
Made ethically in China with quality materials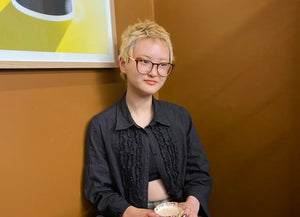 Road Test: I tried five different binders, here's how it went
Words by Jackie Zhou
FASHION JOURNAL
Read