Sock Drawer Heroes, Australia's only dedicated gender expression physical store, is open on regular Shop Days. Check out our calendar below for our Shop Day opening times.
Address: 480 Parramatta Road, Petersham NSW 2049.
Outside of advertised event hours we are open by appointment only.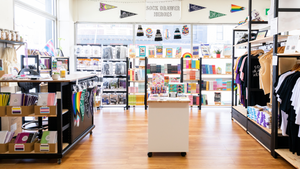 While we mostly operate as an online store, we have Shop Days once a fortnight where you can visit us at the Sock Drawer Heroes shop in Sydney. Here you can browse our gender expression gear and get advice and fitting help with chest binders, underwear, gaffs and bras. We've also got LGBTQ+ books and games, Sock Drawer Heroes clothing and other apparel, accessories, and pride goodies.
Generally, we are open:
First Thursday of the month (4pm-8pm)
Third Saturday of the month (10am-4pm)
*There will be no Shop Days in September 2023
These dates are subject to change. Keep an eye on the calendar below for our shop opening times, as well as our social media accounts for updates: Instagram, Facebook and Tiktok.
On Saturdays, the first hour is sensory-friendly from 10am-11am. We reduce the lighting and turn down the music to reduce sensory overwhelm.
Our quiet space is always available. It has low lighting, fidget toys and soft cushions.
View our Visual Story for more on what to expect when you visit our shop.